Emergency response imaging provides a critical tool for disaster preparedness and resource allocation. Today, thanks to sophisticated drone technology, we can document emergency situations and conditions that ground-based photographers cannot access.
For natural or human-caused emergency scenarios, especially when manned aerial response is unavailable or unsafe, drone imaging can mean the difference between containment and tragedy.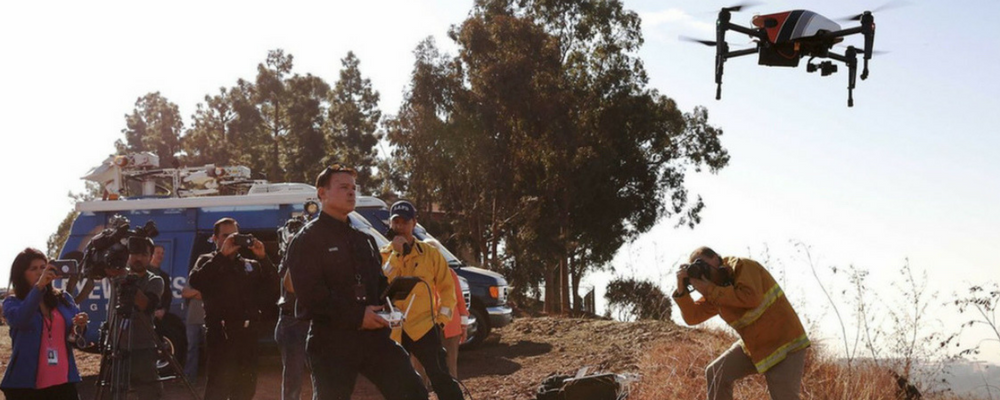 Quick Response Aerial Imaging
For high-priority emergencies like wildfires, natural disasters, weather events, oil spills and catastrophic accidents, emergency response imaging can provide quick and ongoing data for resource allocation and management.
With the capacity for rapid deployment, our unmanned aerial systems can be onsite and in the air quickly enough to make a significant difference for emergency services management. We have the ability to provide wide-angle views as well as precision still images and videography, especially from low levels.
Our services are appropriate for both private and municipal customers, including police, fire and rescue. By sending our drones into remote or high-risk locations, we can not only provide quick response but also help keep precious human resources safe from harm.
Emergency Response Imaging for Search and Rescue
In a search and rescue scenario, time is of the essence. When lives are on the line, emergency aerial imaging can provide geo-location data safely and quickly. Thermal imaging and high-resolution, full-color imagery can provide rapid response teams with the information they need on the ground.
Using data to provide a high level of situational awareness increases both the safety and effectiveness of emergency personnel without the risk traditionally associated with manned aerial imaging.
Forensic Aerial Photography
For the purpose of forensic documentation, aerial photography and videography provide an invaluable method for quickly and safely collecting data. From aviation accidents to crane collapses, drone imaging can provide a comprehensive overview or a highly detailed analysis of the scene – no matter how dangerous or inaccessible it may be.
Forensic imaging is used by insurance carriers, risk analysts and emergency response teams to gain insight into the cause of an incident, to improve first responder efficacy and to develop preventive strategies for the future.
For legal purposes, forensic aerial photography can make or break an important court case. By reconstructing temporal and physical events, we can assist clients by providing detailed and persuasive data that is appropriate for case files as well as exhibits.
At Hot Shots Aerial Photography, we understand the importance of mobilizing quickly in response to our clients' emergency needs. Our UAV systems are available when and where you need them and our experienced operators have the FAA certifications necessary to comply with federal regulations and safety standards. Contact us today to learn more about our emergency response imaging.