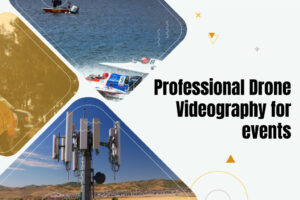 Drones provide some of today's most stirring video footage, from capturing the best moments of a wedding to highlighting the blast of fun at a concert or even looking for people and damage during a natural disaster.
Nowadays, high-end aerial photography and videography are also becoming way safer and more affordable thanks to drones. Capturing the action at concerts, races, weddings, festivals, or other large-scale events can be challenging. Photographs and videos taken from the regular cameras may catch only a limited part of the action. Besides, there are always some people walking inside the frame, ruining the final results.
Drone Event Videography used during events provides a spectacular view of the action, capturing the true scale view of your event from the top. And you can be sure to have jaw-dropping final results, but that is possible only if you hire professionals to capture the overall event for you.
At Hot Shots Aerial Photography, LLC, we have a deep history of producing creative and magnificent videos for various purposes, from marketing to personal. We start our Drone Event Videography service with a consultation to understand your objectives for the event. Then our licensed professional zooms through the sky from various angles to perfectly capture the essence of your whole event. Our drone videographers create a plan that suits your campaign and event needs.
Our Pilots
Our pilots are fully insured and FAA certified with years of experience in flying UAV (Unmanned Aerial vehicles). In addition, since we are dedicated to offering exceptional service to our clients, we are happy to customize our techniques to meet your needs. Whatever the nature or scope of your event, you can expect our skilled pilots to deliver astonishing results.
In addition to event videography, we also pride ourselves in providing reliable Drone inspection services. Our pilots can thoroughly inspect the residential and commercial real estate as well as construction areas and easily collect valuable data to help you make a quick and informed decision.
Understand the current building condition, navigate confined spaces, capture the property from all angles, explore the nearby area and get helpful insight with our Drone inspection services. It is a step you must not skip, especially if you are purchasing property for personal use. After all, it may be one of the significant investments of your life, so it makes sense to ensure that it is worth the price you pay.
Give us a call today to capture the breathtaking videos and images of your event and property. To check out our previous work, visit our website!