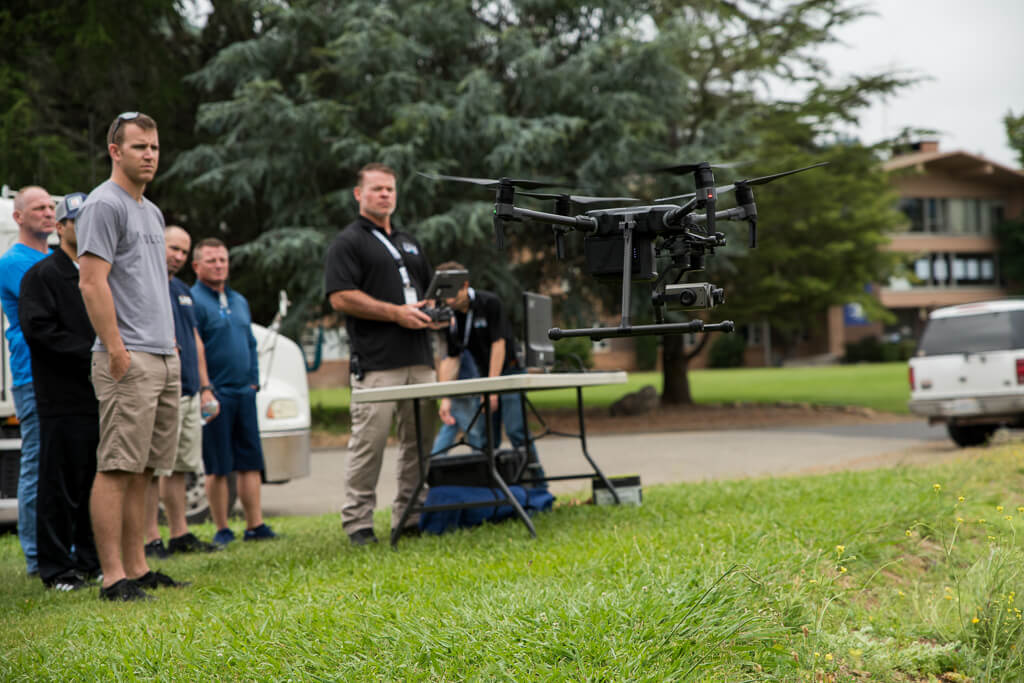 Insights from the DJI Public Safety UAS Event hosted by Enterprise UAS
While public safety agencies in the United States began utilizing drones in 2013, you'd have been hard-pressed to find many organizations doing so in a major way. Part of that was due to the limitations of the technology, but payload advances that have allowed police and fire departments to do everything from remotely stream live images to utilize a thermal camera to get a heat signature of a roof have proven to be real game-changers. More and more local and state agencies are starting to adopt and utilize UAS technology, but it's advocates like Los Angeles Fire Department Firefighter Derrick Ward that have helped these professionals truly understand what kind of increased situational awareness the technology can provide.
Derrick has showcased the success of the LAFD's drone program and also explained in detail how the technology can literally save someone's life. While we often highlight the benefits drones represent when it comes to saving time and money, Derrick is far more focused on the lives that can and are being saved with drones every day. By providing public safety crews with drone training resources that directly lead to better outcomes, Derrick has been able to help departments understand what it can mean for them and for the public they serve when they properly adopt drone technology.
That passion and expertise is just one of the reasons he helped lead a recent 2-day public safety event for Northern California public safety professionals interested in starting or expanding their UAS program. Hosted by DJI and Enterprise UAS, the event explained and explored how law enforcement, firefighters, and search and rescue teams are using UAS and FLIR thermal imaging cameras to aid in situational assessment, fire management, and search and rescue operations.
We caught up with Derrick to find out more about the event, how his conversations with his fellow public safety officials have changed, what kind of benefits the event helped enable for entire departments and much more.
Jeremiah Karpowicz: How have you seen the general acceptance and public perception of drone technology change over the past few years? Have those changes been positive or negative?
Derrick Ward: Over the past few years, drones have become central to the functions of various businesses and governmental agencies. The industry has been able to pierce through the initial negative perception of the technology to prove its' capabilities in terms of cost-savings and time management while also creating a path for public safety to do their jobs more efficiently and safely. The commercial use of drones is gaining steady momentum and has become one of the fastest moving technologies within many industries, but many of the leaders in those spaces are still limited to just a handful of players creating a positive outcome for good using this technology.
As one of those leaders in the public safety space, I'm curious to know how the conversations you're having with public safety officials might have changed since you began using the technology? Are many of them seeing a real difference?
We're absolutely using the technology to save more lives and property to make a real difference. We still share some of the same challenges of acceptance of this technology. Today there are only somewhere around 1,100 to 1,300 other safety agencies using or starting to use UAS to save lives and property. But this number is continuing to grow.
The more we're able to illustrate UAS capability, the more business and public safety will consider it a necessary tool in their toolbox.
What are some of the biggest mistakes you've seen departments make when it comes to adopting drone technology or creating a drone program? Is there a key to success in this regard?
The technology is only as good as its' user.
For public safety departments to successfully utilize unmanned aircraft, it's essential that fire or police have a standard operating guideline on what their objective is for an emergency incident. They need to know the data that they are trying to collect, and what is their workflow in gathering it. This is such a new technology, and that's why it's essential for an end-user to be extremely familiar with the aircraft and payloads that are attached to it. Just like with any other emergency, firefighters and police must train continuously to understanding UAS capabilities and what they're looking for.
For instance, when utilizing a thermal camera during a search and rescue, many factors must be taken into account to have a successful rescue. You must understand the capabilities of your camera and the proper setup to get a valid heat signature. You'll need to know which altitude you fly at, what speed you need to go, and what that thermal image will look like once you see it. This is all accomplished through training.
I see many departments recognizing that the training is as necessary as the aircraft. It's crucial that public agencies set aside funding for their UAS program specifically for training. I have found that this is one of the more significant mistakes when first beginning a program.
I imagine that focus on training was explored in great detail during the DJI Public Safety UAS Event you recently participated in. What kind of response did you see and witness at the event? Where were many of the participants coming from?
The event was an overwhelming success. DJI and Enterprise UAS hosted a free, 2-day public safety event for Northern California public safety professionals interested in starting or expanding their UAS program. There was instruction on how law enforcement, firefighters and search and rescue teams are using UAS and FLIR thermal imaging cameras to aid in situational assessment, fire management, and search and rescue operations.
The participants were people from agencies, both fire, and police. Many of them were just starting their programs. Some of them wanted to get one started.
Tell us about some of the scenarios and applications that were showcased at the event.
We set up a scenario where we had a hostage inside a commercial building. The police flew a DJI Mavic Pro into the building through an open window. Once the drone was inside, it went down a stairwell and was able to go in each room, clearing the rooms to confirm a room was safe. All the while, the drone was transmitting these images to the IC. There were SWAT teams for many agencies watching this operating procedure with a drone. The officers were overwhelmed by the information that was being gathered and shared so inexpensively and quickly.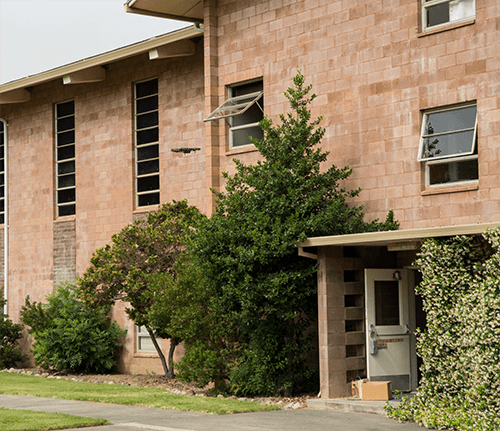 Another training scenario was set up was with an Inspire 1 and a drop system. We were able to show the best way to safely drop objects such as a life vest, radio, or tagline with the drone. The difference it can make to be able to drop that kind of equipment to people in need during an emergency rescue is incalculable.
How did the technology factor into these scenarios?
In the search and rescue scenario, I was able to explain the technology behind the Zemuse XT2 and the Z-30 cameras carried by the DJI Matrice 210. I went through all the settings and how to set them appropriately for a search and rescue. It's a pretty extensive procedure, but to give you a brief sense of the info I was able to share, I explained how we use the XT2 and the Z-30 simultaneously to gather critical information while performing a search and rescue.
As we fly at a given altitude and a given speed, the XT2 has an alarm system that can be set to go off based on the specific temperature reading your looking for. So as we fly, we are searching for a color-graded object along with a temperature reading that identifies something different in the image then everything else. Once we have an indication that we may have something, we can flip off the XT2 and switch over to the Z-30 to verify what we have. These two cameras working together are extremely powerful and useful. The important thing is knowing how and when to use them.
We also had many other scenarios set up to teach on the Mavic Enterprise Duel drone and its MSX FLIR technology and how they differ from the XT2. Both thermal cameras are used for different operations based on capabilities.
What do you believe were some of the significant lessons learned by attendees?
I think what they found is that you don't know what you don't know. We've heard that said before, but in this case, it's true.
As I've mentioned previously, UAS and their payloads are only as good as the trained user. It's always important to me to show a UAS pilot not just how to use the technology but how to go home and continue digging in and learning about its capabilities and the use cases that it can be deployed on. Many of the techniques that were taught were brand new for attendees. For instance, we had AMV video streaming solution for public safety demonstrate the technology and capabilities and how to use this technology on an incident. It's fully encrypted, and many viewers can view at the same time with a 1.5 to 2-second latency.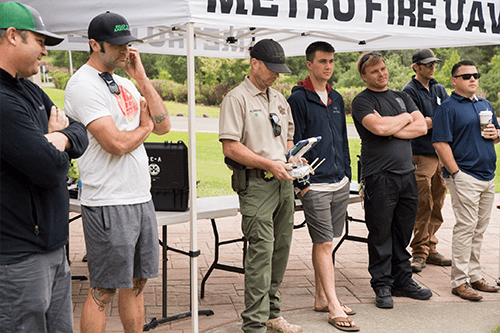 What kind of feedback did you get from attendees after the event was over?
We received a tremendous amount of feedback from participants stating that the training was extremely useful and valuable to them. It's truly an honor to be able to help these agencies better understand this technology that I'm so passionate about. Many expressed that they saw how it can be utilized to really save lives and property. Now they can go back to their agencies and train their pilots to have a better and fortified program.
I've always said that it's essential to train the trainer. This technology and its capabilities really need to be shared nationwide. And these attendees are now at the tip of the spear when it comes to the creation and development of these public safety UAS programs.
Enterprise UAS continues to create and share that value to public agencies nationwide. I am very grateful to be a part of that mission.
If there's one thing you want public safety officials to know about this event or others that you'll be part of in the future, what would it be?
As public safety workers, we have a responsibility to utilize any and every tool available to help in the effort of saving someone's life or their property. If a new piece of technology can do that, then we have to put in the time to understand it. Once these capabilities are understood, then anyone who doesn't embrace it is negligent in that responsibility. You can't stick your head in the sand or just continuing to do things the way we've always done them.
If you're thinking of starting or already have started a program, let Enterprise UAS know if you need help. We can come to you and your department to train. Or please feel free to reach out to me personally if I can help answer any questions in your pursuit to develop or perfect your UAS program.
More pictures from the event are below. You can also find out more about Derrick and his work with Hot Shots Aerial Photography and Enterprise UAS.